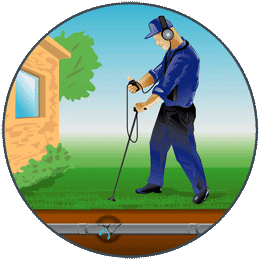 Water Leak Detection & Repair Specialist Austin TX
Water leak detection and repair in Austin Texas, we offer exceptional customer service. We are available to help with your water leak emergencies, like yard line repairs, slab leak detection or repairs, and other hidden leaks. We can also help with services like locating and repairing drain leaks under the slab and replacing main water lines.  Water Leak Detection uses the most advanced detection equipment and methods available.                                                                             Call to schedule your appointment today! 512-928-0378
It's every homeowner's or commercial property owner's will having an undetected water leak somewhere in their building. Because even if they sound harmless, water leaks can not only reduce water pressure significantly; they can also damage property, and health. Fast Plumbing is here for all of your water leak detection and repair needs, be it maintenance or an emergency.
The United States Environmental Protection Agency states that the leaks in an average household can account for as much as 10,000 gallons of—wasted—water each year. The most common types of water leaks are worn toilet flappers and leaking valves—and getting these leaks fixed can reduce water bills!  Water leaks can occur anywhere in your plumbing system, in your walls or under your floors. Yard leaks and slab leaks are also common places that leaks go unnoticed. Water leaks can go on for some time before signs are obvious. If you suspect you have a water leak because your water bill is going up, you hear water running, or you notice areas in your yard that stay wet or spongy, call today Fast Plumbing water leak detection specialist to locate the source of the leak using our top of the line leak detection equipment.
Leaking pipes can have even more of an impact. Because the bulk of a plumbing system is hidden behind walls and under floors, many slab leaks go undetected for a while. That means that the water seeps into the construction material where it can cause corrosion, rot, mold, and mildew. This can cause extensive and costly damage. It can also threaten human health: mold and mildew spores can cause upper respiratory tract infections. In fact, people with a pre-existing pulmonary condition can become life-threateningly ill.
Features of our Leak Repair and Detection Services
Knowing all of this, it's clear that if you value the health of your property and its occupants—regardless of whether it's your home and family or your business and tenants—you need a water leak detection specialist you can rely on. That's where Fast Plumbing comes in. Our top-rated leak detection and repair services offer the following features:
Prompt and professional service, 24/7, 365 days a year
Upfront, transparent pricing with no hidden costs
Warranties on parts and labor
Latest leak detection and repair technology
Non-invasive detection and repair
Expert, objective advice for your situation, regardless of the age or size of the building
Benefits of Choosing Fast Plumbing for Leak Repair and Detection
When it comes to your real estate property, you can't let just any company work on it. You need a company you can trust—especially when it comes to plumbing. That's why there are many benefits to choosing Fast Plumbing for your leak detection and repair needs:
All team members are background-checked, licensed, and insured
Annual preventative plumbing services available for forward-thinking property owners
Improved comfort due to properly maintained water pressure
Decreased potential for water damage to your property
Decreased potential of mold- and mildew-related health hazards
Increased value of your property due to a properly maintained plumbing system
Don't take any chances when it comes to leak repair at your home or commercial property. Be smart, and choose the team of proven plumbing professionals at Fast Plumbing!