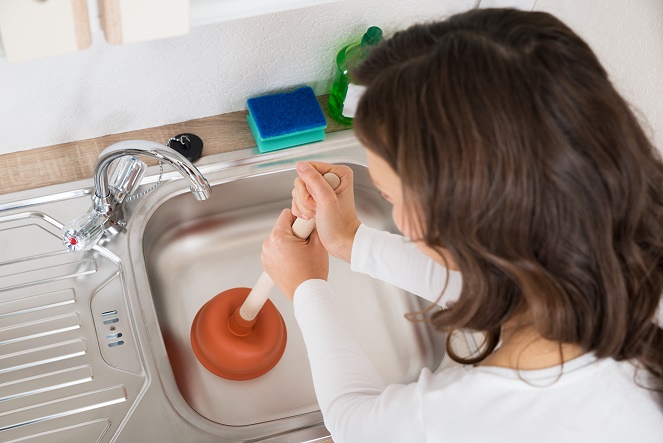 Drain cleaning is just what you need to keep your home free of clogs. Think about it: when you go to use an essential fixture like a toilet or sink, one clog can prove a major disruption in your day-to-day activities. and it's not like it's just something you can ignore either. A clog will only get worse the longer you wait to do something about it, and may put you at risk for facing a wide range of problems. These include higher costs on utility bills, decreased levels of sanitation, and bad sewer odors. You may also need to spend thousands of dollars replacing some of your most essential plumbing fixtures, as a clog can shorten their lifespan and prevent you from functioning normally in your home. All of these problems can build up into a huge amount of stress that will see you unable to relax in your home at all. But before you allow a single drain clog to destroy life in your home, you need to be proactive. Even if you're not a licensed plumber with all the tools and experience needed to conduct full-scale drain cleaning service, you can still take action in maintaining your home's plumbing system for the better.
How Can Fast Plumbing Help You?
Fast Plumbing should be your first choice for drain cleaning service. We have a team of fully-trained and licensed plumbers ready to take on any drain problem. They can provide you with plenty of helpful solutions that will see clogs eliminated from your plumbing immediately. One of our solutions includes video camera inspection, which will see us insert a camera down the drain to see where a clog is forming. From there, one of our plumbers will be able to determine the best method for removing it and provide service immediately. If your drainage problems appear to go well beyond a clog, we'll gladly conduct sewer line replacement to ensure your plumbing system is working to the best of its abilities. Thanks to our help, you will enjoy a wide range of benefits that will see you be able to enjoy life in your home so much more. No longer will you be bothered by high costs on utility bills, and you'll instead be able to gear your savings toward other interests. You will see your most essential plumbing fixtures have their lifespan extended so they'll be able to work for years without experiencing any issues. But best of all, you will be able to stay at a better peace of mind, especially when you know the possibility of a clog will be kept far, far away from your plumbing system. After all, our work doesn't just ensure easier plumbing; it's ensure you enjoy an easier life altogether.
7 Helpful Tips for Drain Cleaning
So maybe you're not some all-star plumber who can handle any plumbing problem, but there are still things you can do to ensure clogs are nothing but a distant memory. Take note of these 7 tips to keep fixtures working to the best of their abilities:
Baking Soda and Vinegar: The idea of mixing baking soda and vinegar may seem a little odd at first, but it's one the best homemade solutions for drain cleaning. One cup of vinegar and a ½ cup of baking soda mixed together will have an eruptive effect once poured down the drain, sending any cause of a clog up and out.
Keep Grease and Oil Away: Pouring grease or oil down the drain is a huge no-no. The thing about grease is that it can harden when it's stuck down your drains and make passage through the drainage pipe impossible. Instead of throwing it down the drain, discard grease in the regular garbage. It will save you from a lot of frustration in the future.
Invest in Strainers: Since kitchen and shower drains can easily become clogged with hair and soap scum, it's a wise move to consider strainers for your drains which will work to keep any prime clogging material out. Just remember to clean out the strainers periodically.
Avoid Chemical Drain Cleaners: Don't be fooled by any those ads making chemical drain cleaners look good. Due to their makeup, these solutions can eventually bring damage to drainage pipes if you rely on them too often, leaving you in a position where you need to seek pipe repair as soon as possible.
Always Keep a Plunger Handy: No bathroom is complete without a plunger. When you experience a clog in your sink or toilet, make sure the area is filled with some water to ensure the plunger can gain suction, then cup the plunger over the drain and plunge repeatedly until the water levels go down. This will let you know if the drain clog will be removed.
Use a Drain Snake: Like its namesake, this tool is snake-like in form and can fit into areas of your drainage system that a plunger will be unable to reach. However, be careful to use drain snakes carefully or else you may risk puncturing the side of old, rusty plumbing pipes.
Boiling Hot Water: Much like how hot water can easily remove tough stains from dishware, the same can be said when you boil hot water and pour it down your drains. Boiled hot water from a pot or tea kettle will work as lubricant in helping make clog removal all that easier.
Drain Cleaning Starts with a Call Our Way!
Contact Fast Plumbing today if you want to learn more on how you can keep your home clog-free thanks to highly effective drain cleaning!